I had intended to post updates throughout Advent concerning activities that we had completed in preparation for the birth of Christ, but we came down with the stomach flu early in the month, and things just got crazier from that point on.
As predicted, the most easily accomplished activity for me was to read a story about the birth of Christ to the boys. There was gingerbread house decorating, Christmas puppet making, and holiday movie watching. Gabriel really enjoyed helping me decorate the Christmas tree as well. The upper half of it, anyway, since Joshua didn't want to leave anything within his reach alone.
I also created our family Christmas card earlier this month: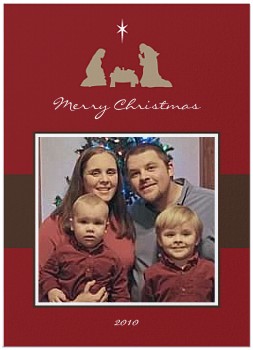 Nativity Night Scarlet Holiday 5×7 folded card
The expression on our faces is the "hold still and look at the camera, kids" look. I'm sure that you've seen other parents sporting it this holiday season. We are looking forward to a happy, and relatively relaxed Christmas and New Years. I hope that you experience the same.